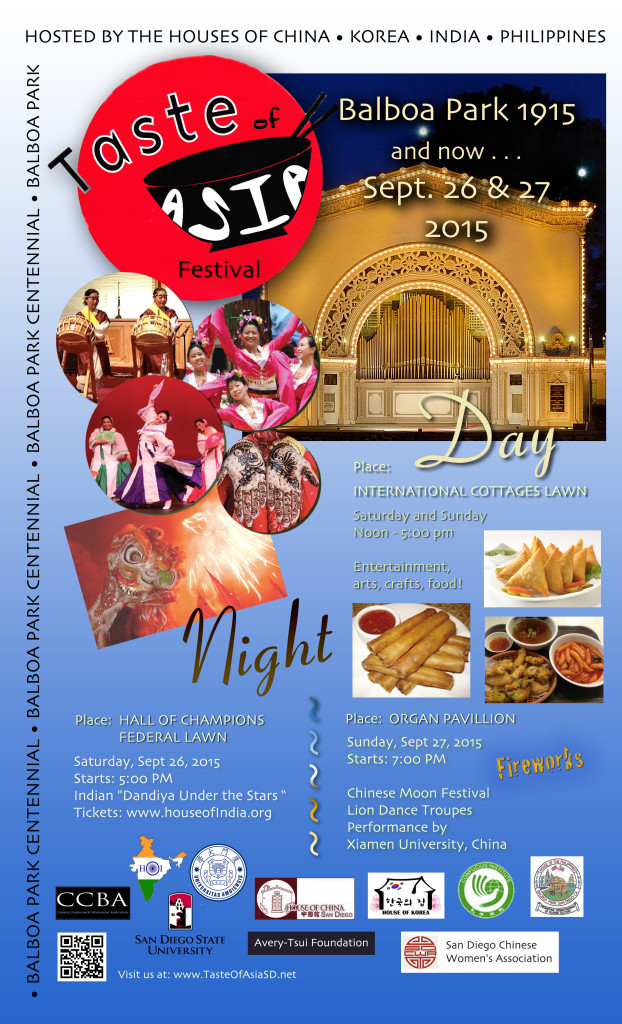 Food, music, dance and crafts of Asia come alive September 26 and 27, 2015 at Balboa Park. In celebration of the Centennial of the Panama Pacific Fair, Taste of Asia Festival will be staged 12 noon to 5 PM at the International Cottages.
The grand finale is Chinese Moon Festival on Sunday, September 27 at 7 PM at the Organ Pavilion. The program begins with three lion dance troupes prancing to drums, gongs and firecrackers. Xiamen University (China), a national treasure of dance, wushu and music performers, are feature entertainment. A display of fireworks will shine over the Organ Pavilion, along with set pieces of a dragon, carp, lotus and "100", will conclude the festivities.
The Organ Pavilion show is free. The Celebration is hosted by the Houses of China, India, Korea, Philippines; and Confucius Institute @ San Diego State University. The Avery Tsui Foundation is a prime underwriter of expenses.
 Crafts
India – Henna Indian decorative stencils
China – Your name written in Chinese
Japan – Kokeshi Doll or game of 'Go'
Food
Chinese; Korean; Filipino; Indian
Entertainment
9/26 Saturday @ International Cottages
9/27 Sunday @ International Cottages

2:00 PM – Korean
2:15 PM – TBA
2:30 PM – TBA
2:45 PM – TBA

9/27 Sunday @ Organ Pavilion

7 PM Three Treasures Cultural Arts Lion Dance, Southern Sea Lion Dance, Lucky Lion Dance and firecrackers
7:15 PM Welcome
7:25 – 8:20 Xiamen University (act stage time prop movement)
8:20 PM Fireworks