[vc_row][vc_column][vc_column_text]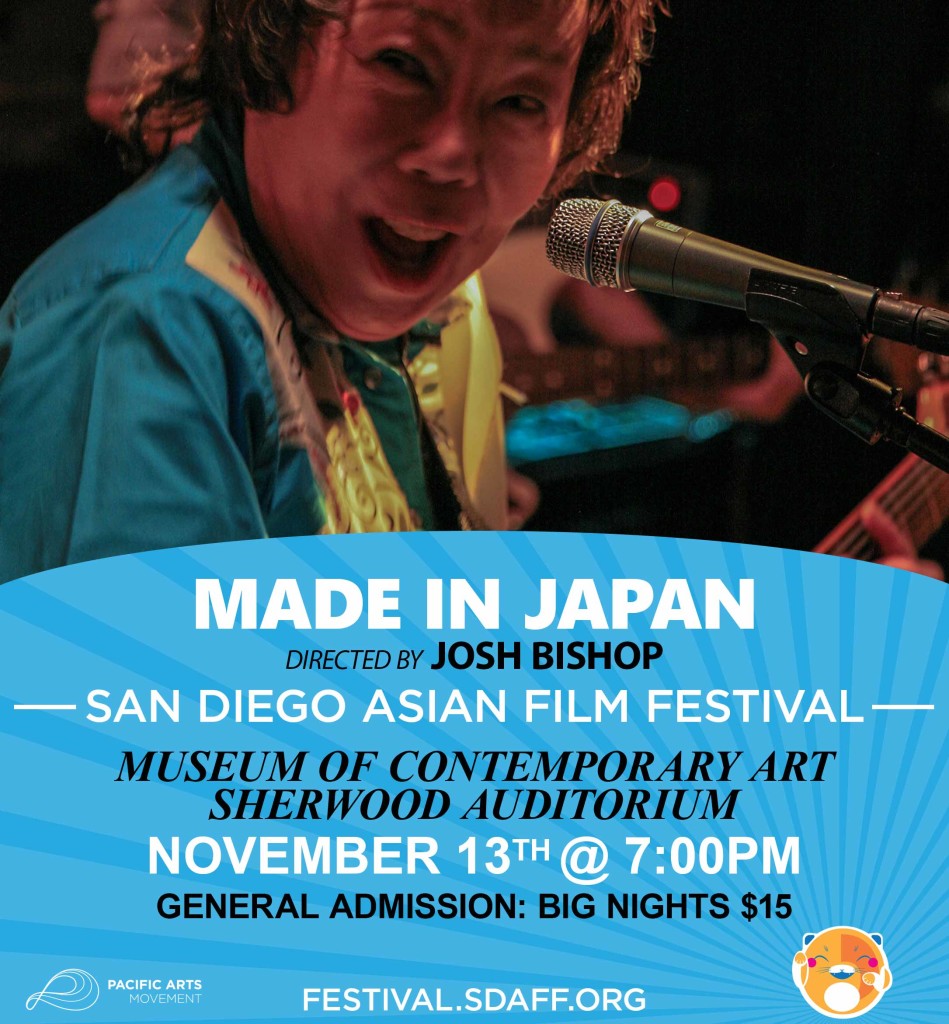 The San Diego-Yokohama Sister City Society is proud to co-present the 16th San Diego Asian Film Festival's Closing Night Film, MADE IN JAPAN on November 13th.
Join us on Friday, November 13th, 7pm at the Museum of Contemporary Art, Sherwood Auditorium. Purchase tickets here
Description
Official Selection, 2015 SXSW Film Festival
Special Jury Prize, 2015 Nashville Film Festival
Official Selection, 2015 Chicago Asian American Showcase
Before global electronic brands made the moniker "Made in Japan" a household phrase, another electrifying import found its way to the United States. She hailed from Nagoya, her name was Tomi Fujiyama, and back in November 1964, she became the first Japanese country singer to grace the stage of the Grand Ole Opry – on the same bill as Johnny Cash no less. Her performance was greeted with a standing ovation, a testament to not only her exceptionalness, but also Nashville's acceptance of her well-studied musicality. But even though today Tomi is a legend of American country in Japan, will she be accepted again at the Grand Ole Opry?
Josh Bishop's rousing documentary tracks Tomi's journey back to the United States to fulfill her dream of returning to country's biggest stage. It also tells the story of how Tomi's unusual tale began: humble beginnings during World War II, family relocations, shady neighbors. In their family's tailor shop storefront, Tomi's father played music to attract customers and Tomi listened. Soon, she was singing publically and her father was playing guitar and managing her career. Gigs at American military bases during the Korean War turned Tomi onto country and she found her calling. Soon, she was the "Queen" of Japanese country music.
Decades later, Tomi's path to Nashville is as indefatigable as ever. Nearing seventy, Tomi and her husband hit the road, greeting everyone with her infectious rendition of "Howdy!" and her endearing takes on country classics in bars and on the radio. Tomi wows with the comfort and ease of her music, which comes off less as a cultural performance than the expression of a woman's irrepressible true self beaming through with a fabulous smile. And seeing that sun-soaked image is what's ultimately most unforgettable about Josh Bishop's lovable, music-filled documentary. –Eric Lallana
Co-presented by: SDCWA, Harvard Alumni Association, San Diego- Yokohama Sister City Society[/vc_column_text][/vc_column][/vc_row]