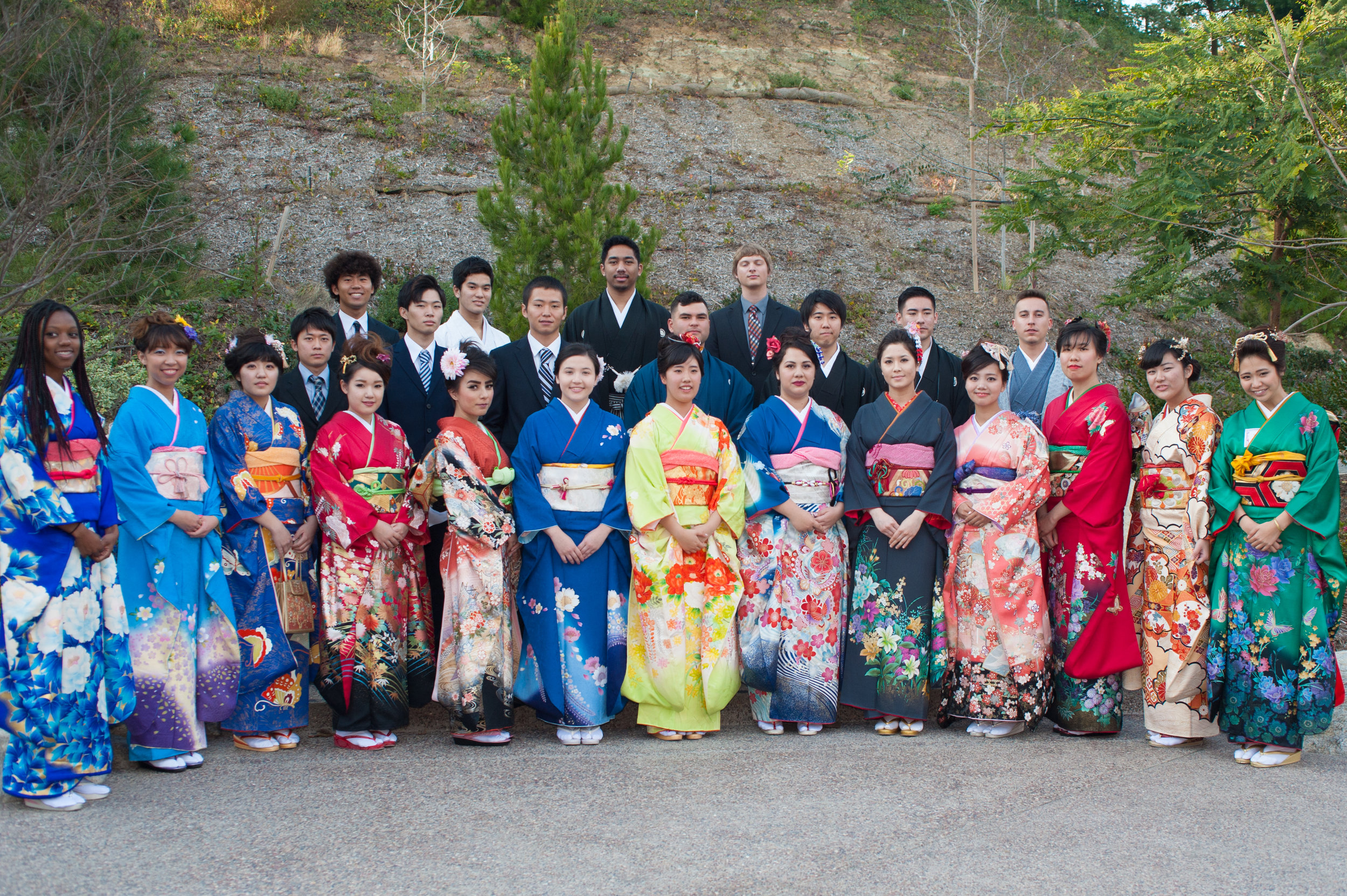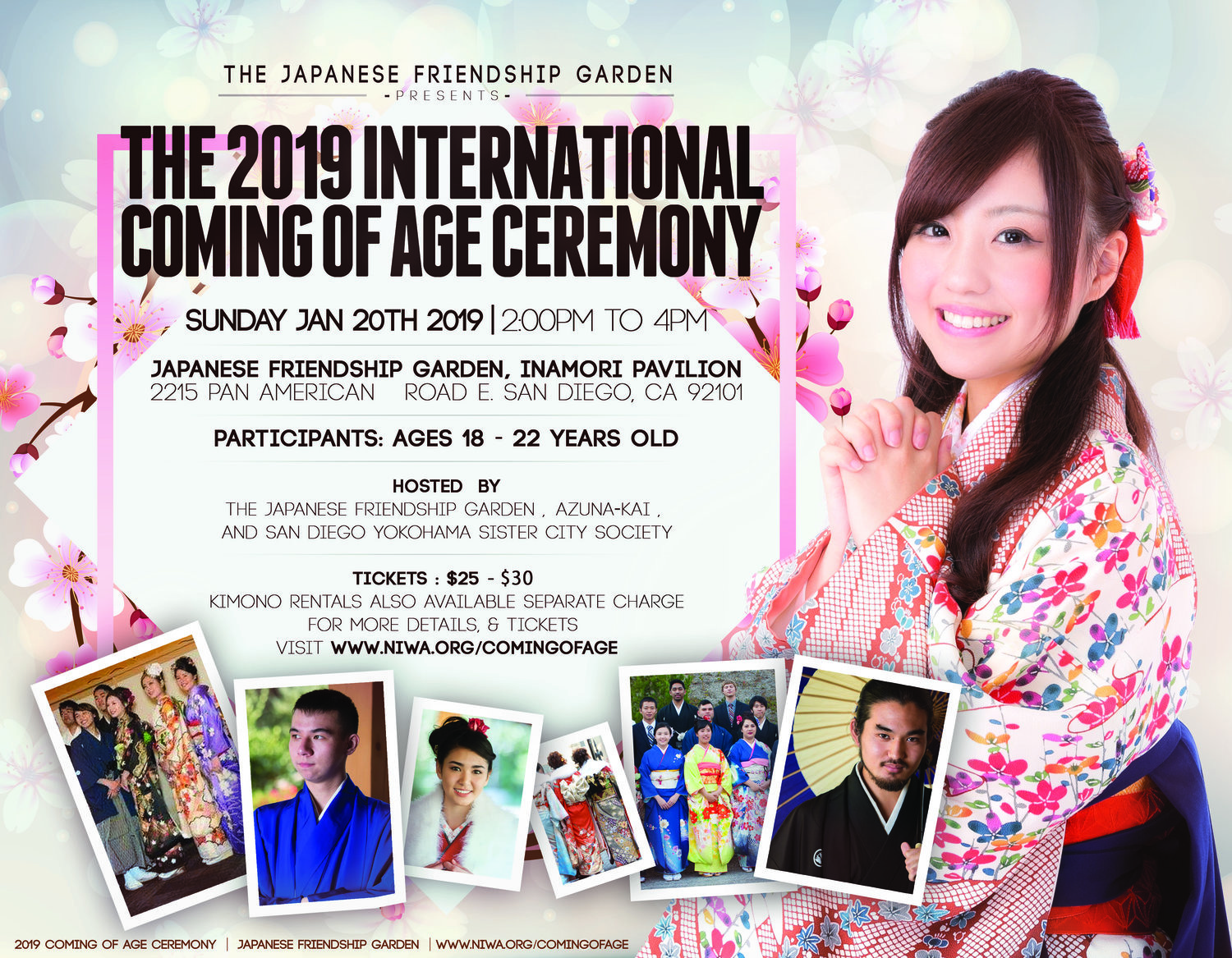 Hosted by the Japanese Friendship Garden, Azunakai, and the San Diego Yokohama Sister City Society, the Coming of Age Ceremony (Japanese: "Seijin-shiki") is an important rite of passage for many young Japanese adults in Japan, just turning twenty. Many of them attend a ceremony at their local community center, dressed in traditional kimono or western suits to celebrate the new chapter in their lives. Unmarried women have the chance to wear the elaborate long-sleeved kimono called furisode. Families and friends will take many photos together on this occasion.
Students from all cultures and backgrounds are highly encouraged to attend this event. Kimono rental service is available, and participants are welcome to wear any other formal or cultural attire.
Date: Sunday, January 20, 2019
Time: 2:00pm – 4:00pm
Location: Japanese Friendship Garden, Inamori Pavilion
Kimono and hair dressing is available (sold in separate packages). Please arrive at least one or two hours prior to event and schedule an appointment with kimono dresser Yuko Niwa at yukoniwa@gmail.com or 858.752.2206.
Eligibility requirements: 18-22 years of age
Participant Entry … $25 – includes full access to the garden, Inamori Pavilion, the ceremony, refreshments, and professsional photographs. If a participant guarantees at least 3 guests, his or her entry becomes free! Please purchase 3 tickets for guests and send an email with the names of the guests plus the candidate for free participation.
Student Guest Entry … $25 | Adult Guest Entry … $30
Kimono Rental … $65 (sold separately) – Kimono rentals are arranged separately through Yuko Niwa at a bargain price. For participants bringing their own kimono and wished to be dressed, there is a $25 fee. Please contact Yuko at yukoniwa@gmail.com or 858.752.2206. Photos available upon request. Be sure to mention the Japanese Friendship Garden Coming of Age Ceremony to be eligible for this price. Read further conditions below.
The day of the ceremony students can enter the garden at the front entrance and change into their kimono at dressing rooms provided at the Inamori Pavilion in the lower garden. Separate parking and entry through the bottom garden can be arranged with prior notice and proof of registration.
Kimono Package
1. Kimono Rental is limited to 6 people. Once all 6 kimonos are rented out, kimonos are available upon request but additional cost.
2. Hair dressing is also available upon request ($25 additional cost).
Portrait Photography $25 – Includes full shot portraits by the Inamori Pavilion waterfall and other scenic areas. 10 to 20 photos will be selected and sent via email and cloud. Photographer: Pacific Fusion Photography. Please contact: pacificfusionsd@gmail.com
インターナショナル成人式
会場:日本友好庭園・イナモリ・パビリオン
日時:2019年1月20日 (日) 午後2時半~4時
共催: 日本友好庭園・愛絆会・サンディエゴ横浜姉妹都市協会
協賛・協力: Pacific Fusion Photography, サンディエゴ着物クラブ, 愛絆会
成人式は、二十歳の若者が大人になることを祝う、日本における重要な通過儀礼です。新成人の多くが伝統的な着物、またはスーツを着用して各地域で開催される式に出席し、成人としての新たな船出を祝福します。未婚の女性は、振袖と呼ばれる袖の長い着物を着用します。この機会に、家族や友人は多くの写真を撮ることができます。
この度、愛絆会及びサンディエゴ横浜姉妹都市会は、サンディエゴで三周年のインターナショナル成人式をJapanese Friendship Gardenと共催することになりました。どんな文化的背景を持った学生でも、イベントの参加を歓迎します。可能であれば、あなたの文化を代表して伝統的な衣装を着て、イベントを盛り上げてください。
イベントは、午後3時半から5時までの予定としています。
当日の日程は後ほど公開いたします。
着物のレンタルとヘアセットもご利用可能です(別売り)。その場合は、丹羽裕子(にわゆうこ)様(yukoniwa@gmail.comまたは858.752.2206)に事前にご連絡いただき、着付けのご予約をしていただいたうえで、1時間から2時間前には会場にご到着ください。
対象年齢:18歳~22歳
お申込みについて
お申し込みになる前に、それぞれの価格と登録の説明をよくお読みください。
インターナショナル成人式の参加費用は以下のようになっています。
参加者入場券 $25 ―(庭園とイナモリ・パビリオンへの入場、式への参加、軽食、プロによる写真撮影が含まれます。1人の参加者が3人以上のゲストを招待する場合は、その参加者の入場は無料となります。ゲスト用の入場券を3枚購入して、ゲストの名前と入場が無料になる参加者の名前をメールでお知らせください。)
学生入場券 $25
大人入場券 $30
参加者は、自分の招待したゲストの名前のリストと、式で流すスライドショーに使用するための自分の幼少期の写真を3枚以上、program@niwa.orgまでメールでお送りください。
着物レンタル $65-着物のレンタルは、成人式にあたり特別価格でご用意しております。丹羽裕子(にわゆうこ)様を通じて別途お申込みください。丹羽様には yukoniwa@gmail.com または858.752.2206からご連絡ください。ご連絡の際には、この価格でご利用いただくために日本庭園のことをお伝えください。詳細は以下の事柄をお読みください。
着物パック
着物のレンタルは、先着6名までとなります。ご希望であれば、6着の着物がすべて貸し出された後も着物のレンタルは可能ですが、追加料金がかかります。
ヘアセットもご希望によりご利用可能です。($25追加料金)
着付師の丹羽様(yukoniwa@gmail.com または858.752.2206)に事前にご連絡いただき、着付けのご予約をしていただいたうえで、1時間から2時間前には会場にご到着ください。
式当日、学生は庭園に正面玄関から入り、Lower gardenにあるイナモリ・パビリオンの更衣室で着物に着替えることができます。個別の駐車場やBottom gardenからの入場をご希望の際は、登録の証明が必要になりますので、事前にお知らせください。
肖像画の撮影 ($25)- 稲盛パビリオンの周辺にある滝を背景にした撮影。 写真の10枚~20枚をクラウドでお送りします。 提供者: Pacific Fusion Photography  お問い合わせ: pacificfusionsd@gmail.com
他に質問がある場合は、programs@niwa.orgよりFrederic Hewettまでご連絡ください。